So, a few folks took issue with yesterday's post: How to recognize a BS Bagua Video
Some were mad that I criticized Kickboxing. I do think Bagua is vastly superior but I never actually said anything bad about Kickboxing so I'm going to ignore them.
Others, had a better argument. They said,
"Hey, wait a minute. When Bagua's creator Dong Haichuan taught, he mixed Bagua with whatever his students already knew.

…and each student knew different arts. So all Bagua is mixed with other things. This is part of what makes Bagua great and interesting. Who are you to draw a line between which mixtures are and are not Bagua?"
The above statement IS true.
…but it's still really easy to draw that line.
Here's how:
All Bagua does Circle Walking and one very big reason for this is because Bagua specializes in dealing with 4 to 8 attackers.
So, if it's a Bagua Kickboxing hybrid that uses Circle Walking while sparring to effectively handle 4 – 8 opponents then it's Bagua.
If it doesn't use circle walking or it falls apart when you start adding more than 2 or 3 opponents then it's not Bagua.
There are of course, other core principles and body methods that all Bagua shares but those two are a quick and easy way to get a pretty good idea of whether something is Bagua or not.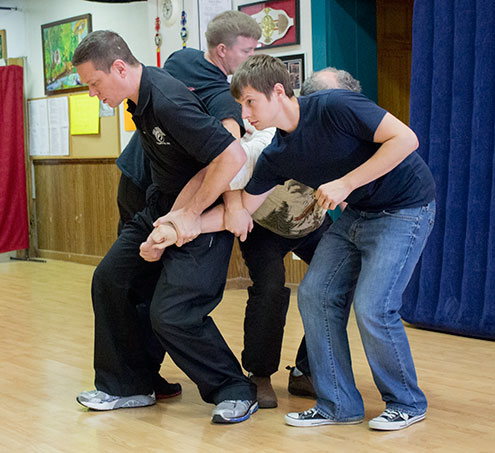 This functionality against multiple opponents is so integral to Baguazhang that we begin teaching it on day one.
We find that folks who spend a long time doing forms, standing and exercises, often have major holes in skill and bad habits that must be corrected once they learn the functional side of fighting multiple attackers.
When you start with a functional understanding of fighting multiple opponents it's much easier to train forms and exercises correctly. That way you avoid the bad habits and progress much faster.
The Bagua Intensive features in depth training in fighting multiple opponents with an emphasis on how to apply different Bagua circles, Spins of all sizes (90 degree up to 720) and much more.
Begin training as soon as you sign up: