In depth training in the Internal Martial Arts
Welcome to the online training center for Clear Tai Chi, Xing Yi, Bagua, & Silat.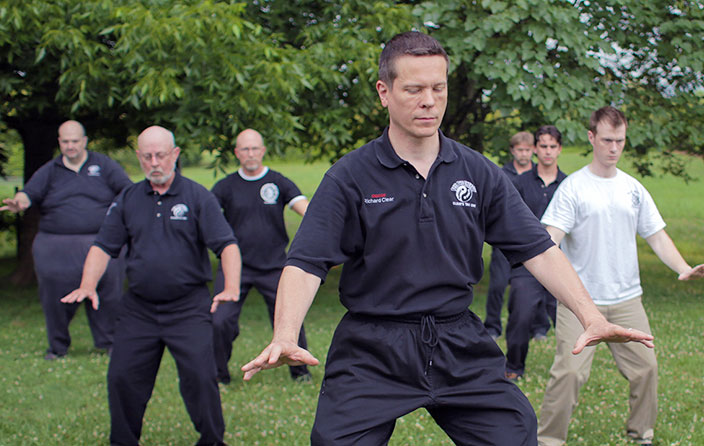 Sigung Richard Clear began studying self defense in 1976 to help him stay safe in crime ridden neighborhoods. He quickly developed a passion for the martial arts and began pursuing them for their powerful martial abilities as well as the health and healing skills they contain.
His pursuit of advanced self defense and health skills has lead him to the study of Taijiquan, Kuntao & Pentjak Silat, Baguazhang, Xingyiquan, Qigong and more. He has studied from over 40 master teachers in the USA & in China.
As much as he enjoys studying martial arts, Sigung Clear also devotes considerable time to the art of teaching, studying how people learn and finding the most efficient ways to teach these arts to others.
Sigung Clear began teaching in 1983. Since that time he has taught people from all walks of life including: police officers, DEA & FBI instructors, special forces, attorneys, CEOs, martial artists and more. Sigung Clear has students studying from all over the world and over 5,000 martial artists read the daily Clear Internal Combat Arts Newsletter.
The mission of ClearMartialArts.com is to raise the standards of internal martial arts instruction by providing convenient access to in depth high quality instruction. As well as creating a support network where practitioners can get feedback, ask questions and find other internal arts enthusiasts to train with.
Practical training in esoteric practices
The martial arts are often shrouded in myth and mysticism. While we do enjoy a bad Kung Fu movie, we like to keep our training practical and down to earth.
We find the best way to build advanced skill is to break the arts down step by step.
…and the best way to spread these arts is to let people experience the benefits of training for themselves.
We offer several free programs (some don't even require an email signup.)
The Practical Guide to Internal Power (Beginning Tai Chi and Qi development.)
Fundamentals of Baguazhang